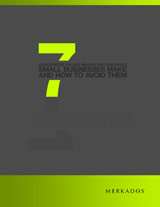 There is no question that in the game of chess, unless you understand strategy, you have no chance of success against a sophisticated opponent. Marketing your business online, also requires strategy. However, most businesses usually build a website, without a good understanding of the strategy behind it. It is not hard to imagine why they are getting such poor results. In the game of chess, of course, the looser goes home and everything continues as it was. Unfortunately in the game of online marketing, your business has to live -or die- with the consequences of bad strategy.
In this report, "7 Dangerous Online Marketing Mistakes Small Businesses Make and How to Avoid Them", Alex A. Centeno, MBA, director at Merkados™, has compiled some of the most dangerous trends and put together a comprehensive plan to avoid them altogether.
As part of Merkados' commitment to the success of the small business owners of North Carolina, we are offering this report, which took multitude of hours and resources to put together.
If you are a small business owner you may find at first that some of this mistakes shockingly apply to your and your business, but you'll also find in this report refreshing ways to fix them immediately and start playing the game of online marketing at the highest level.
This report is currently unavailable.