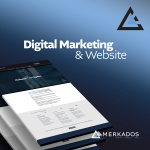 Episode #1. In this episode we cover several topics:
How Merkados™ comes about and how did we arrive at helping business owners with their digital marketing.
The three components of an effective digital marketing strategy.
What is the problem with just redesigning your website?
Bilingual websites – why are they effective?